What are World War Two artifacts
We sell World War Two artifacts that were lost during the war by soldiers that fought on the battlefield. These artifacts are also often called relics. It's World War Two equipment that was simply left behind or lost in the heat of the battle. There are World War Two artifacts in all shapes and sizes: buttons, coins, buckles, medals, porcelain, casings, you name it! Also the origins vary. These artifacts either originate from the Allied Army or German Army and are usually marked with a manufacturer stamp or production date. All World War Two artifacts have an important story to tell. Ask yourself: What was this artifact used for? Why was this artifact lost? Who lost this artifact? Where was this artifact lost? There is so much history to be learned from these World War Two artifacts.
World War Two is an important part of our past. Experience the history that took place on the battlefields by buying unique sets of World War Two artifacts. All of the artifacts have been dug up on historical sites where fighting took place between the Allied Army and the German Army. You will really feel the history when you hold these artifacts and see them with your own eyes. So, if you are ready to learn about our military history, don't look any further! There are many World War Two artifacts for sale in our shop. By buying these products, you will support our work and help us to keep doing what we love most: continue our quest to find World War Two artifacts and share their story with the world through documentaries. Your contribution will be invested in equipment, licenses and metal detecting trips.
Which WW2 artifacts are for sale
There are many authentic World War Two artifacts for sale in our shop. These artifacts are composed in a variety of packages. Examples of packages are coin packages, buckle packages, US relic packages and German relic packages. We also offer mystery boxes in different sizes, ranging from 5 to 15 random pieces. If you are looking to start or expand your World War Two artifacts collection, don't look any further. Our mystery box will get you a nice variety of authentic WW2 artifacts that have been dug up on Europe's battlegrounds. Are you interested in shell casings specifically? We also offer these. German, British or American, it's all there! Stamped Nazi porcelain is also available in our shop.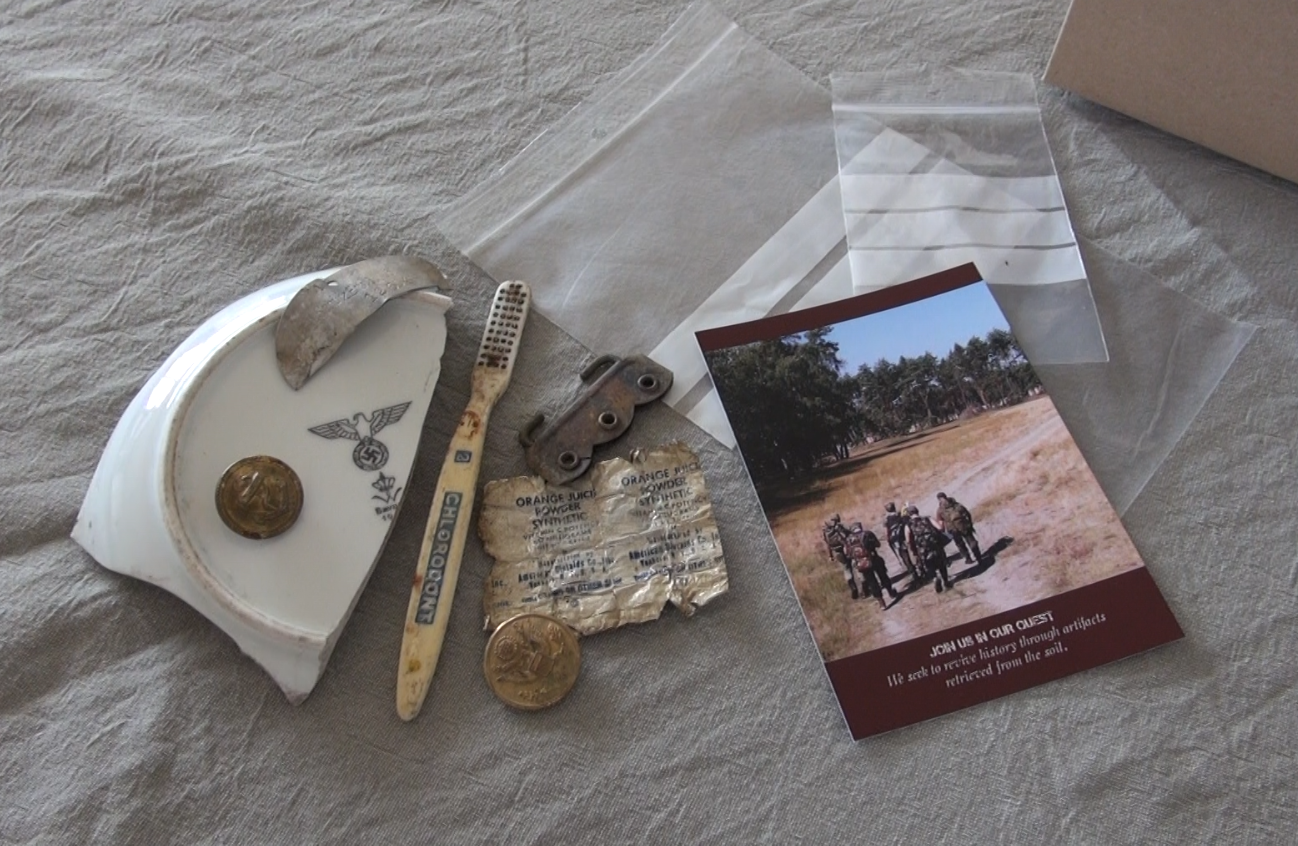 Why choose Metal Detecting WW2 Battlegrounds
When you order at our shop, you can be sure that all World War Two artifacts are 100% authentic. Every box is unique and will be composed by Chris himself. A handwritten description of each artifact will be provided as well. History will speak for itself when you open your package. The World War Two artifacts that are for sale in our shop were not just pulled from some shelf, they were dug up on actual battlegrounds by Chris himself. These artifacts have a real story to tell and will be a true addition to your collectors' items. What are you waiting for? Get your hands on some authentic WW2 artifacts now and check out our shop!